Name: Chris Harrington
Country of Origin: England, UK
Country of Current Residence: England, UK
Job Title: Hotel General Manager - River Ships
Why did you choose this career path and how long have you been in your current role?
I've always wanted to work on ships, especially as my father and grandfather had done so, but there was always a curiosity for working on river ships rather than the more conventional ocean liners; almost like an itch I wanted to scratch!
What are you responsible for?
I am ultimately responsible for the entire commercial aspect of the shipboard operation. That includes things like onboard sales, the guest journey, guest satisfaction through service delivery and maintenance of brand standards. I also oversee the shipboard accounting and human resource functions, inventory control and food safety & hygiene.
What specific qualifications and/or experience is required for this position?
I initially gained City & Guilds qualifications in catering disciplines and have built a vast amount of experience in the hospitality sector over many years (in land based roles and onboard ocean liners and river ships) which adds weight to my CV.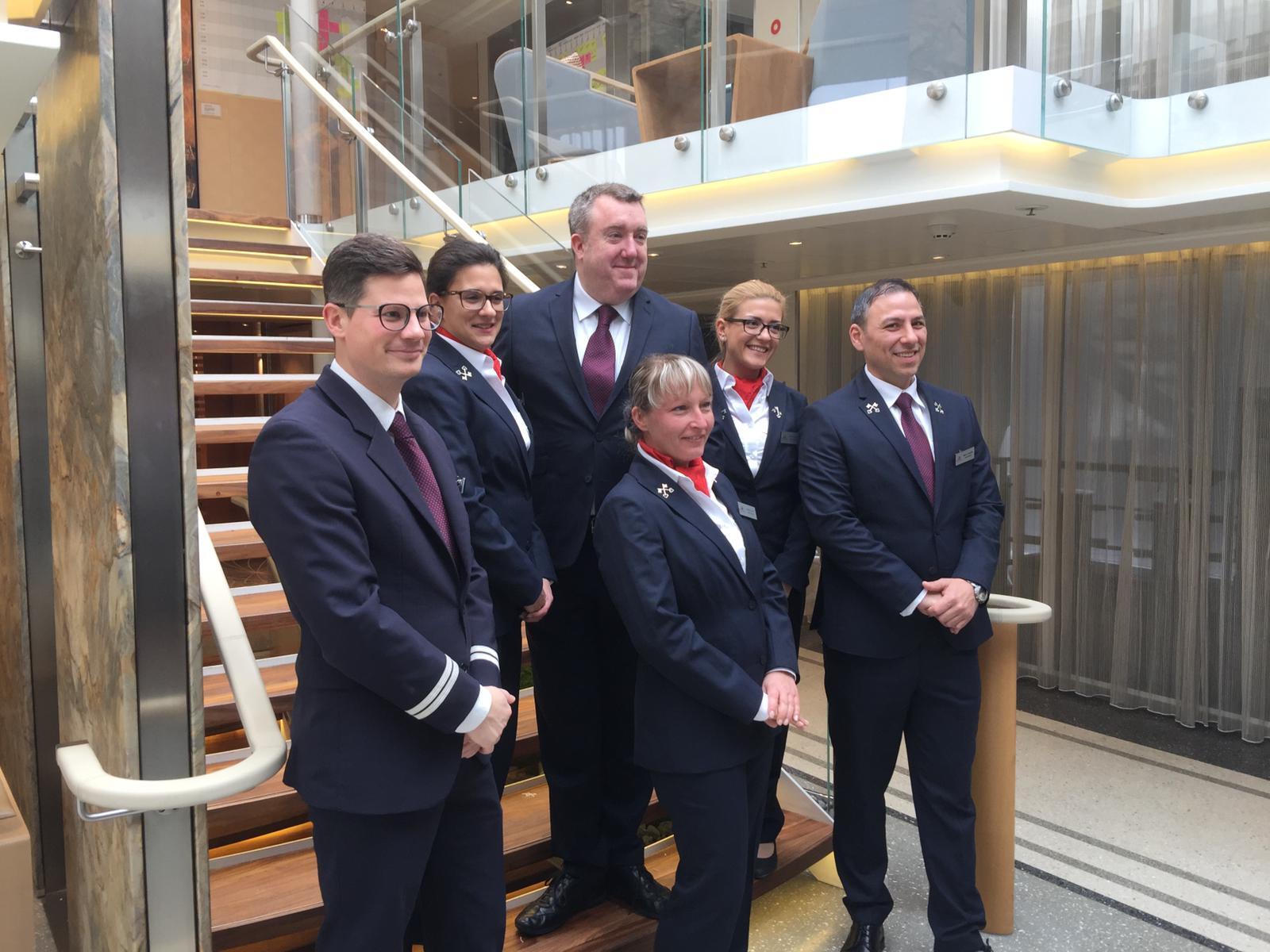 What does your typical working day look like?
I'm up and about by 8am, walking the vessel, speaking with the crew and checking that all areas are operational and shipshape. I greet the guests as they enter the dining room and ensure the breakfast operation is running smoothly. Then I head to Guest Services to ensure the first excursion is dispatched smoothly and liaise with the Captain and Program Director regarding the ship's status and enrichment plans etc. My favourite part of the day comes next - "The Daily Reunion" which is our communications meeting with the Hotel Executive Team. This is my opportunity to guide the team on the day's operational requirements and I use the time to motivate and inspire them. It's all about positive energy!
My mornings are usually filled with meeting and greeting crew and guests and completing administration. In the afternoon I manage the lunch operation in conjunction with the Maître D and usually have a quick rest break after lunch and then I'm back up and about repeating the vessel walk-rounds, finishing off any admin and doing menu checks.
I then head to the main lounge at 18:00 to meet and greet the guests. I enjoy speaking to them about their day and their experience while I monitor lounge and bar service. I stay in the lounge for any speeches required until dinner time and then I meet and greet guests as they approach the dining room.
Once dinner starts I do a random check of the stateroom turndowns and have a 1-2-1 with the housekeeper. I then go to the galley to monitor the main service and enjoy a bite to eat myself before returning to the main lounge to take part in the evening enrichment program. Lastly, I do a final walk of vessel before retiring to my cabin.
What personal qualities do you consider to be drivers of success for this position?
Ultimately you need to be a "strong leader". You obviously require some knowledge of all aspects of the operational business and a sound understanding of food safety is a MUST. A good background in F&B is helpful but a passion for enrichment is important because as a product, it's our fundamental responsibility to expose our guests to culture, history and enrichment. Great communication skills and planning is required, as is a thorough understanding of book keeping and inventory management.
If you weren't doing what you are doing today, what other job would you have chosen and why?
If I had not got involved in the hospitality industry, I would have perhaps liked to have been an entertainer as I love to entertain people.
What do you enjoy most and what do you enjoy least about your job?
What I enjoy most is the sheer diversity of the role. You go from being a general manager, overseeing the commercial business, to the ship's accountant and human resources officer, to inventory controller and health and safety officer, to crew welfare officer...and that's all before lunchtime. The job ensures the need for versatility and the diversity of the position requires you to use all of your skill sets. The harvest from it, is complete job satisfaction.
What do you do for fun?
I like to explore the ports we visit and discover as much about the culture and history of the area as I can...and the odd pint in the English pub in Lyon of course! :)
Tell us something about yourself that not many people know!
When I worked for Carnival Cruise Line, I was awarded Team Leader of the Month, twice in one contract on two different ships. It's something I'm very proud of.
What piece of advice do you have for anybody considering a career in your sector?
My advice is just go for it! Work hard, be yourself and try your best for your guests with a whole and genuine heart.